The Lions and Hong Kong Baptist University (HKBU) Chinese Medicine Charity Foundation (CMCF) received donations in a total amount of HK$200,000 from Lion Wan Kin Chung, Past President of Lions Club of Tuen Mun, and Lion Marco Yuen But Ho, member of Lions Club of Tuen Mun, with his wife Mrs. Shera Yuen, earmarked for the subsidized Chinese Medicine service for the elderly. In appreciation of the three donors' beneficence, a cheque presentation ceremony was held on 30 September 2022. Officiating at the ceremony were Lion Wan Kin Chung, Lion Marco Yuen, Mrs. Shera Yuen, Dr. Andrew Lam Hoi Ham, JP, Chairman of CMCF and Professor Bian Zhaoxiang, MH, Associate Vice-President (Chinese Medicine Development) of HKBU.
Other CMCF Directors and HKBU representatives attending the ceremony included Mr. Paulman Tse, Director of CMCF, Professor Li Min, Associate Dean (Teaching and Learning) of Chinese Medicine, Professor Sun Feng and Dr. Yang Junjun, Associate Directors of Clinical Division, School of Chinese Medicine and Mrs. Lily Chan, Director of University Advancement and Secretary-General of the HKBU Foundation.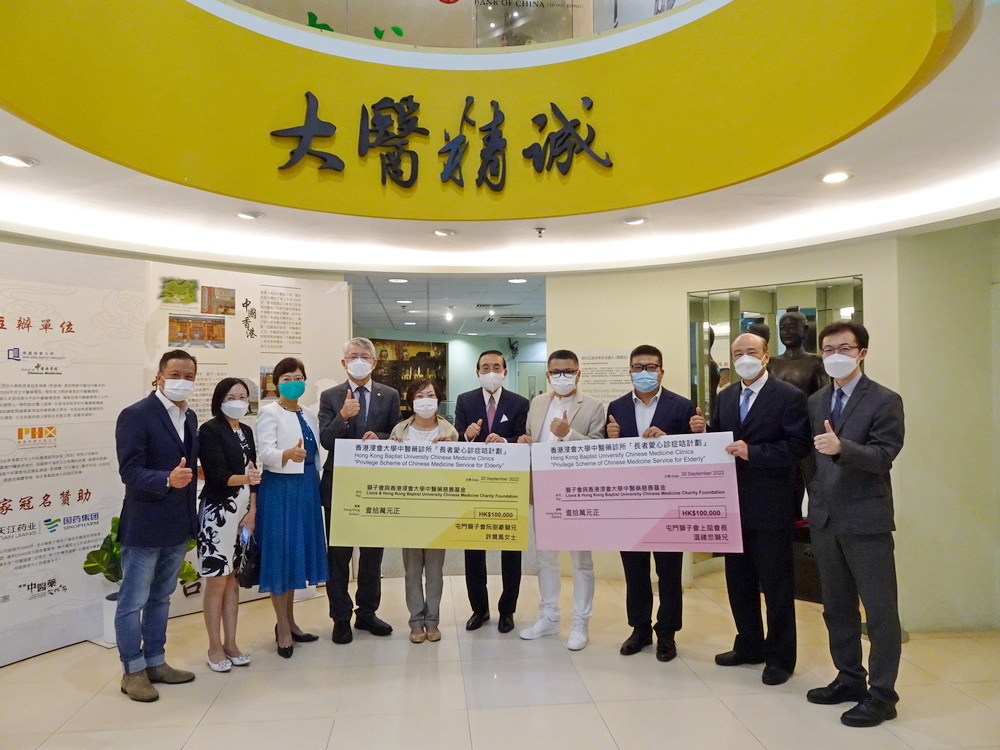 On behalf of the Lions and HKBU CMCF, Dr Andrew Lam (5th from right) and Professor Bian (4th from left) received the cheques presented by Lion Wan, Lion Yuen and Mrs. Yuen. The event was witnessed by (2nd to 1st from right) Professor Sun Feng, Dr Yang Junjun, (3rd to 1st from left) Professor Li Min, Mrs. Lily Chan and Lion Paulman Tse.